Sherry Andrens Owen Fine Art
Watercolours, Pastels, Drawings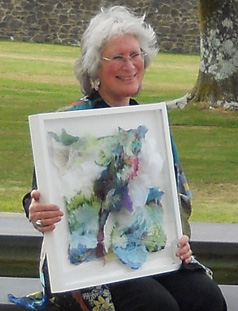 I grew up in Laurel Canyon in Southern California and have always been interested in art. I received my Bachelor of Arts degree from California State University in Northridge in the early 70's. I then continued my art education for several more years at the Art Center College of Design in Los Angeles, where I was first introduced to watercolour. We got to spend much of our time away from school, painting outdoors on location around the city. Our final project would be a wild and creative weekend camping and painting the landscape in Morro Bay in Northern California. This sounded wonderful to me, and it was actually on this course that I discovered and fell in love with this special medium. I think it's the spontaneity and the magic of the watercolour that I responded to the most. It has a mind of its own, and that is what I love about it. I just never know what's going to happen when I put paint to paper.
My paintings are all about colour, and light and texture. They are abstract and 3-dimensional. I only use the highest quality artist materials, archival glue and mould-made watercolour paper for my paintings. To create this effect, I apply the watercolour and then attach the beautiful handmade, oriental rice papers and natural fibers that I have collected for many years from around the world. I enjoy transforming various landscapes into abstract interpretations of Nature, both above and below the sea. I also use iridescent oil pastels to add that extra accent of colour. Generally, I don't like to title my paintings, as this then allows the viewer to interpret my work using their own imagination.
From 1979 to 1994, I participated in the Laguna Beach Festival of Arts in Laguna Beach, California. I made many contacts there and sold paintings worldwide. I also continued to participate in many juried shows and exhibited in galleries throughout the U.S.
In 1994, I moved with my husband and young son to Laugharne (pronounced larne!) in South West Wales, in the UK. Being surrounded by cows, sheep and vast green fields and farmland was quite a change for this city girl. It was incredibly stimulating, as I saw colours, especially greens, that I'd never seen before. Actually, I still do. My palette has been enhanced and inspired by my new surroundings, a perfect combination of city and country colours. I have also returned to doing pastel landscapes again of my local area, to compliment my abstracts. I am enjoying this very much, too.
My watercolour collages are contemporary and one of a kind. They usually become the focal point of the room. They are very popular with interior decorators and designers and I enjoy working closely with them and their clients in producing the painting that is just right for them. I also gladly accept personal commissions, and have my own clientele from around the world. If there are particular colours you would prefer and certain sizes for certain wall areas, I would be very pleased to discuss your ideas with you. Please feel free to email me on the contact page so we can talk about them or any other questions you may have. My paintings can be shipped anywhere, framed or unframed, and we can discuss all that, as well.
Thank you very much. I look forward to hearing from you.
Sherry
SELECTED EXHIBITIONS and COMPETITIONS:
Royal Watercolour Society Contemporary Competition, Bankside Gallery, London 2013
"Small Picture Show", Group Show, Art Matters at the White Lion Gallery, Tenby, West Wales
Royal Watercolour Society Contemporary Competition, Bankside Gallery, London 2012
159th Autumn Exhibition, Royal West of England Academy, Bristol.
"Looking Forward", Group Show, Art Matters at the White Lion Gallery, Tenby, West Wales.
National Watercolour Society, USA, 2 "Travelling Shows"
1st Place, National Botanic Garden of Wales, Open Competition
Pastels Today, Mall Gallery, London, England
Laguna Beach Museum of Art, "Group Show"
Laguna Beach Festival of Art, Laguna Beach, California 1979-1994
1st Place, Southern California Expo, Del Mar, California
Palm Springs Museum of Art, "Group Show"
Carson-Sapiro Gallery, Denver, Colorado
Incurable Collector Gallery, Beverly Hills, CA
The Art Collector, "Solo Show" San Diego, CA
Challis Gallery, "Group Show", Laguna Beach, CA
Multiple Images Gallery, Palm Beach, FL
Source Gallery, San Francisco, CA
Judith Posner Gallery, Milwaukee, Wisconsin
SELECTED PUBLICATIONS:
The Art of Watercolour, English and French editions, June 2012
Design West Magazine
Showcase Magazine
Los Angeles Times
House and Gardens Magazine
SELECTED COLLECTIONS:
Hilton Hotels
Sheraton Hotels
Festival of Arts Permanent Collection, Laguna Beach
Bank of America
Price-Waterhouse-Coopers
MGM Studios
20th Century Fox Studios
Scripps Hospital, La Jolla, CA
Walt Disney Productions
Mr. Jack Linkletter
Dr. Toni Grant
AT&T
IBM
Kaiser-Permanente Medical Centers
CBS Broadcasting Studios
Mattel, Inc.
TRW
O'Hare International Airport, Chicago, Illinois
South Coast Medical Center, Laguna Beach, CA
UCLA Medical Center, Los Angeles CA
Jockey Club, Las Vegas, Nevada
and numerous private collections.